Slug Fest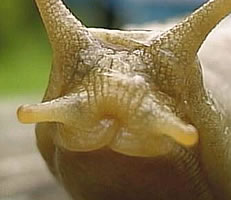 By Joe Smith
Misty met the latest love of her life when she pulled onto the shoulder of the highway to let the screaming fire trucks pass and her car stalled. She was touching up her mascara in the rear-view mirror to kill time while giving the engine the breather it would need before starting up again when there was a tap at the shotgun side window. The face peering in at her in the light of a failing dusk was rugged yet somehow boyish, topped with a shock of unruly blonde hair littered with bits of leaf, brambles, seeds, a few twigs....
Stardust, Applejack & Our Town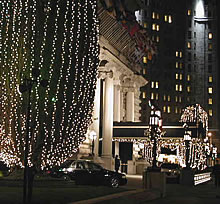 By Louis Martin
It's always Christmas when you hear Eric Shifrin play the piano at the Laurel Court in the Fairmount Hotel on Nob Hill. He doesn't wear a red Santa Claus outfit and have a long white beard but he does have magic in his fingers. When he plays he casts a spell. The Laurel Court was designed by Julia Morgan at the turn of the last century but it was not until Eric started playing there that the design was really complete. "What is the trick?" I asked Eric. "Not too loud," he said. That is being humble. The trick is a magical medley of songs that grabs the heart ...
Miles, Coffee, Saron Hey Yo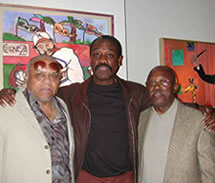 By Louis Martin
I seem to be OD'ing on two things lately: dim sum and art. Also I am seeking warmth in a cup of coffee. But not your usual cup. I go for the "fortified" stuff. Must be the weather. It's getting cold. On the art front I have learned something. Trumpeter Miles Davis also drew and painted. I was surprised when I stopped by Gallery 580 the other day and Elizabeth told me they had the works of Miles Davis coming in. Was he "bad" with a brush? Was he a real "motherfucker"? (Miles, I'm sure you know, had a mouth.) Well, maybe not "real bad" but not bad either....
Yank Sing Has the Details Down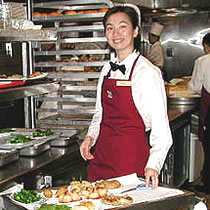 By Louis Martin
Judy Chan is one of the driving forces behind the Yank Sing restaurants in the financial district of San Francisco. But she didn't start out in the restaurant business. Like a lot of us, she journeyed her way to a profession. "I went to UC Berkeley, got a degree in chemistry, then during my last year of college I met my husband, whose family was in the restaurant business." She was thinking of going to medical school but decided on pharmacy school to have more time for family life. She graduated but then when her mother-in-law died she found herself in the restaurant business helping her husband....
Sweet Heat, Vicki Burns & Violet Hour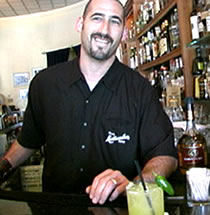 By Louis Martin
"Sweet Heat" is not the name of one of those massage places down on O'Farrell or Geary. It is the name of a cocktail invented by Dave Nepove, aka Mr. Mojito, master mixologist of Enrico's. If you're a late riser like me, it is a great way to kick-start the day. There's no messing around after one of these drinks. The inspiration for the drink was a pepper infused tequila. "I wanted to try it with fresh peppers," says Dave. Freshness is one of the major themes of the bar at Enrico's in North Beach. Fresh fruit, fresh herbs, and muddling....
Velella Velella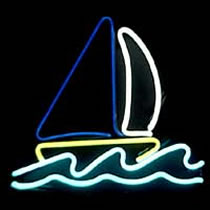 By Joe Smith
One curiously balmy day in spring, the beach along the old log-hauling road north of Fort Bragg is littered with condoms, Prussian blue condoms, almost phosphorescent, each equipped with a crinkly, translucent reservoir tip. They're ankle-deep along some stretches of sand. The gelatinous masses glistening in the sun aren't really, of course, remnants from some underwater safe-sex orgy of mermaids and other sea creatures. They're Velella velella ...