"SWEET HEAT" is not the name of one of those massage places down on O'Farrell or Geary. It is the name of a cocktail invented by Dave Nepove, aka Mr. Mojito, master mixologist of Enrico's. If you're a late riser like me, it is a great way to kick-start the day. There's no messing around after one of these drinks.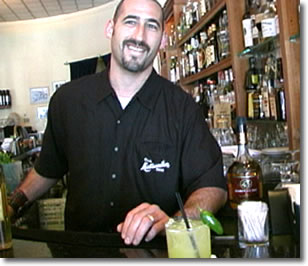 The inspiration for the drink was a pepper infused tequila. "I wanted to try it with fresh peppers," says Dave.
Freshness is one of the major themes of the bar at Enrico's in North Beach. Fresh fruit, fresh herbs, and muddling.
Sweet Heat starts with a workout: muddling a jalapeno pepper from which the seeds have been removed. Dave does this in a mixing glass filled with ice, jalapeno on the bottom. Then Gran Centenario tequila is added along with Licor 43, fresh lime juice, and simple syrup. You shake it and pour it into an old-fashioned glass.
| | |
| --- | --- |
| Gran Centenario | |
| Licor 43 | |
| Lime juice | |
| Simple syrup | |
It's a great drink. Dave won first place in the Gran Centenario tequila competition with it. While it isn't going to improve your job performance, it will make you feel better if you have lost your job.
In fact, I know someone who could use one. I walked by the Westin St. Francis on Powell street the other day, and one of the bartenders from Michael Mina's new restaurant was out on the street with a picket sign protesting the lockout. Yes, the lockout affects hotel restaurants too. It seems that the hotel owners have grown stingy over health benefits and pay in the new contract. The union doesn't like it. The owners are saying take it or leave and wait outside while you decide. This leaves workers Bitter & Cold, which is not a good name for a new drink. Let's get these good folks back to work!
BUT LIFE CAN BE that way. I have a friend who has lung cancer. It has spread to other parts of her body. She has had two rounds of chemo, two rounds of radiation. Before the "cure" she had some energy and an appetite. Now she has almost none.
The good thing is that her daughter from China was able to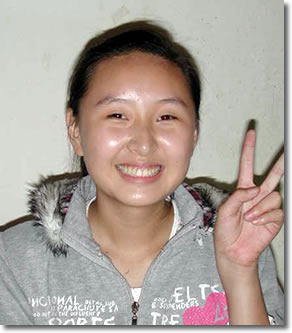 get a visa and come to help out. My friend had not seen her daughter in five years.
The daughter's name is Yan Yan. She is seventeen years old. She is a skinny kid with a huge smile. She also likes to laugh.
One day in Chinatown I was charging down the street with her and she started laughing. I asked her why. "Just like to laugh," she told me. Usually she is laughing at something, but if enough time passes without anything to laugh about, she does not wait.
She also likes to eat. In fact my first impression of her eating habits was that no one was feeding her in China. She wanted to know about "American food", so one day I bought her an apple pie at Victoria's bakery over in North Beach and a half gallon of Haagen-Daz French vanilla ice cream. I watched the top of her head and the V of her nose while, with chop sticks, she ate half the pie and most of the ice cream. Without looking up, she twice uttered "very good." I warned her that she would be sick and she was.

STOPPED BY ZINGARI LOUNGE the other day to hear jazz singer Vicki Burns and pianist Fred Zimmerman. They sounded better than I have ever heard them. Then during their break they tell me their problems. Vicki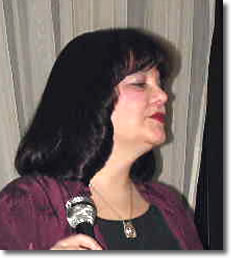 started the week by getting fired from her day job. Fred had a tough week too. He and his wife split up. From their playing, however, I can only conclude that a bad week is good for your art.
I order fried calamari, which comes with a tasty tomato, basil, and garlic sauce, and a glass of Pinot Grigio. Vicki and Fred are eating lovely pasta dishes—no one does it better than Zingari's—and drinking red wine—all free as part of the gig. Life is tough but it ain't that tough, at least not here in San Francisco.
Know Zingari Lounge? It's part of Hotel Donatello on the corner of Mason and Post. The lounge is unusual. It is on the second floor and open to the hotel lobby below so that the music drifts down.
Lauren is the steady hand of the bar. She had my drink down the second time I walked in. So I surprised her and ordered something different. Did it the third time too. But she still asks if I want a Ketel One with a twist.
"Next time," I say. "Tonight I think I'll have a Negroni." No problem, she knows 'em all.
Zingari features different artists seven nights a week. But Vicki is the best. Maybe if I had more pain in my life I could write as well as she sings. You can hear her at the Cosmo over on Spear street on Saturday nights, at Bistro Yoffi in the Marina, at Cafe de la Presse ... She has a new CD called Siren Song. My favorite cut is a version of Miles Davis' So What? The words are Vicki's. Miles was many things but not a lyricist.

SOMETIMES I WONDER about myself. The other day I was headed downtown to the wonderful Weinstein Gallery (383 Geary Street)for the opening of a show by Guan Zeju, the famous Chinese painter. Feeling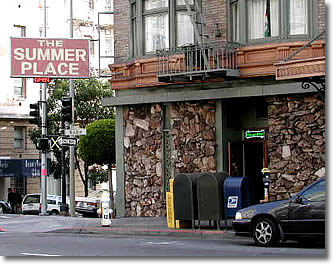 a little nervous for reasons unknown, I stopped by The Summer Place on Bush Street for a drink. Know the Summer Place? It ain't high class and its customers are a little on the rough side, but if you need a drink and don't want to be seen, it's your place.
Anyway, I left calmer than when I went in. Down at the gallery I find that the show is an invitation-only show in a private gallery upstairs at the corner of Powell and Geary overlooking Union Square. Leo from the gallery takes me down.
A young man in a tux takes my business card, jots down my name, and lets me in.
Inside the gallery there is a waiter with a tray of Champagne glasses. I grab one and spot the hor d'oeuvres along the wall. They can wait. I want to see how Bourbon mixes with Champagne.
There are a lot of people in the room, many Chinese and very well-heeled. I scan the walls to see the latest work of Zeju. They are predominantly nudes of a strikingly beautiful woman in the foreground and traditional Chinese painting in the background. Previously I have only seen Zeju's paintings of a fully clothed ballerina. Nice but conservative. These new works, however, fascinate me. Now part of my interest, I'll have to admit, is the model. She is voluptuous and inviting and yet poised.
Then I spot a woman across the room who take my breath away. Maybe the Champagne has gone to work on the Bourbon from the Summer Place, or vice versa. Immediately I ask the young Chinese woman next to me who THAT women is.
She tells me it is Yuan Yuan Tan, principal ballerina with the San Francisco ballet company.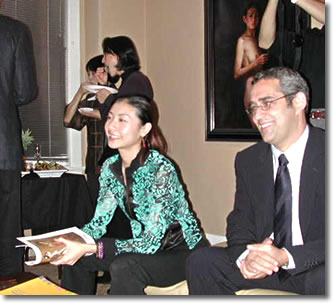 I do a quick tour of the rooms. Some paintings in a back room are clearly Yuan Yuan. But these are paintings of a fully dressed ballerina. The nudes I am not so sure about. Are they Yuan Yuan or not?
Coming back into the main room, I see that Yuan Yuan is now alone on the couch. I make my move.
"Hi, you Yuan Yuan, right?" I say sounding like English is my second language. "I am ... I am intrigued by these paintings of Zeju. Do you know ..." I didn't want to ask directly ... "do you know if the model is here tonight?" The words come out but pile up. They are like cars following too close; they rear-end each other. She looks uncomfortable. I feel more awkward than before. I don't know what she answers but she slips from the couch and glides to safety on the other side of the room. I must have brought some Bush Street vibes and the Summer Place with me.
Final note: Looking through Gary Regan's "The Bartender's Bible," I see not a single recipe calling for Bourbon and Champagne.

MICHAEL MINA'S new joint has a classy bar and, as expected, a specialty list of cocktails. Since everything seems to be special at Michael Mina's, I wondered how special the bar list might be. The "California Negroni" caught my attention. Instead of orange, it gets a shot of grapefruit juice. Some drinks you can mess around with. I wasn't sure about the Negroni.
What about the Florida Negroni or the Hemingway Negroni. This sounds more like grapefruit to me.
Naturally I ordered it.
The trick to the California Negroni, Libby the bartender told me, is very little grapefruit juice. "Just a splash." She didn't concoct the drink; her boss did.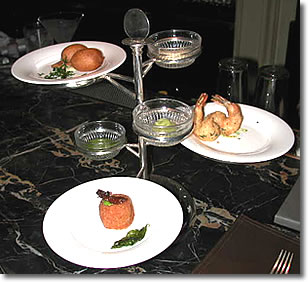 I agree. It didn't ruin it. But it did not do much for it either. The long twist of grapefruit was a nice addition, however. You smelled it but did not taste it. And it looped enticingly over the rim of the glass.
The hor d'oeuvres were right on. A beautiful stand of three small plates and sauces for each: crab cake, shrimp, and corn dogs. The corn dogs are of course a take off on the classic corn dog. They are petite, fresh, with succulent ground pork inside. For $14, this is not a bad way to experience the food at MM's without taking out a bank loan. Though small, the flavors are huge. It's almost as if you had an entire meal. When the lockout is over, you might want to check it out.

THE VIOLET HOUR (written by Richard Greenberg, starring Louis Parnell, Liam Vincent, Kevin Rolston ...) has probably come and gone by the time you read this. But if not, see it. San Francisco Playhouse on Stutter. Its fast paced and funny but built on a serious framework.
Picture a young idealistic publisher who cannot decide what book to publish: that of his long-time friend or that of his mistress. He has only so much money. Enter a time machine that allows him to read the literature of the future. But it only makes things worse.
The Violet Hour is about a lot of things but its defining moment comes at that time of day when the light plays a wonderful trick, revealing the beauty in all things. The light dissipates the paralysis of indecision. I know those hours. I couldn't live without them.
Home | City Notes | Restaurant Guide | Galleries | Site Map | Search | Contact