Whinning in Wine Country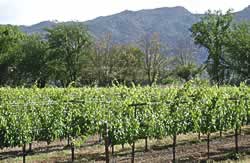 By Louis Martin
Computer shows are a lot of fun, especially when they are over. Those big ones at Moscone Center in San Francisco are especially daunting, dizzying, discombobulating ... or something. See what I mean? They leave you groping for the right word and never quite finding it. Anyway, when they are over you will need a recovery plan. Part of my recovery plan always includes a little getaway, along with a bit of the grape....
Duck Tape
By Joe Smith
"If I had the dough," says Arnie, "I'd follow the feng shui of alcohol. Facing north, I'd drink aquavit or vodka. South, it'd have to be rum or pisco, and so on with the other cardinal directions." We're leaning against a redwood cadaver washed up on the beach, our toes sifting through the hot sand, our eyes fixed on the sea unraveling itself here at the continent's edge. I suppose Arnie ought to be sipping saké, rather than the kind of white port that often includes a packet of Kool Aid attached with a rubber band to the neck of the bottle....
Ukulele Is No Joke in Santa Cruz
By Andrea Perkins
I was in a room filled with people wearing funny hats and Hawaiian shirts. Even weirder was the fact that they were all holding tiny, four-stringed guitars. No, it wasn't a dream. It was Peter Thomas' fourth annual Ukulele Party. Thomas has a Ukulele Party every year, right before the International Ukulele Convention in Hayward, California. Uke aficionados from God knows where gather in Thomas' Santa Cruz beach house on their way to the convention, and being the less conventional of their breed, revel until the early morning....
Whose Coastal Getaway Now?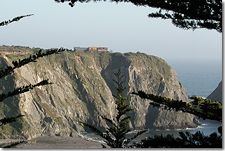 By Louis Martin
Heading up Lombard Street, then over the Golden Gate, it is nice to be close to the coast. But in Santa Rosa in the early afternoon traffic is backed up on the two-lane highway and it is downright hot. It has been early Summer in San Francisco and it is not any cooler to the north. The Quick Stop in Cloverdale is crowded as usual but after taking the turnoff to Mendocino and the coast, traffic thins out. Except for a hippy in an old blue pickup who is following dangerously close—doesn't he know hippies are supposed to be mellow?—I am beginning to get away....
Making Waves for Clean Oceans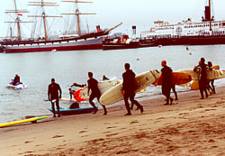 By Nina Wu
Early on a foggy Sunday morning at San Francisco Aquatic Park more than 60 surfers have shimmied into their wetsuits and brought their surfboards to the water's edge. But what drives them to the water's edge this morning isn't the desire to catch a wave. It's the desire to take part in the Annual Clean Water Day Paddle—a symbolic act of concern for the ocean, earth and environment. Every year, members of the Surfrider Foundation across the nation ...
Tango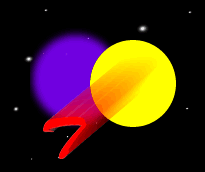 By Joe Smith
I answer the phone, my hands stinging. With a pair of snips that could be a lot sharper, I've been doing battle with the blackberries in my backyard, attempting to foil their schemes for world conquest. A muffled sob lands in my ear. The sob started in a smashed heart in a no-doubt scrungy apartment in the East Village. It has crossed rivers and mountains and all the rocking wheat of Kansas to get here .... "I'm so happy you're home. I need to talk or I'll die ....