Surfboard Shaper Johnny Rice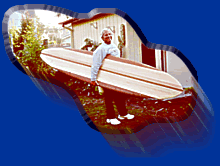 By Nina Wu
Johnny Rice is a lifetime surfer who rides the waves during the week and makes his living by shaping surfboards in his backyard on weekends. He has a favorite saying: "Surfing is good for you in four ways: physically, mentally, emotionally and spiritually." The 63-year-old Santa Cruz native lives and breathes what he prescribes. The life of a surfer means living according to the rhythms of the tide's pull and not the daily 9-to-5 grind....
Cool Hand Eddy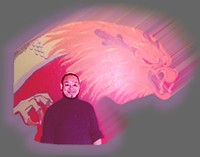 By Kathy Nguyen
Eddy Wong has tried just about everything, from bussing tables and doing dishes, to selling paint, dealing cards, and working as an apprentice chef. He seems to have found his calling in the latter occupation. The 29-year-old man from Macao opened his own restaurant, Biiru Biru, in March of last year. Although Eddy has been in business for less than a year, few places among the legions in San Francisco can match his artistry when it comes to sushi....
The Naked Truth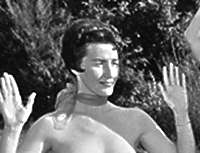 By Andrea Perkins
You won't see any signs on the highway reading "Best Nude Recreation in the West, 3 miles," yet in the thick of the Santa Cruz Mountains, just south of Silicon Valley, Lupin Naturist Preserve has persevered for 64 years. Announced by a small wooden sign at the top of a long, unmarked driveway, the resort occupies 110 sunny and unusually temperate acres. Even in winter, provided it isn't raining, Lupin's famous microclimate encourages visitors to disrobe....
Mulligan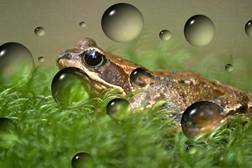 By Joe Smith
"So he wasn't exactly Mr. Right?"
"Isn't that a contradiction in terms?" says Misty, who's been calling herself Dusty for some weeks now. "There's no such thing as the right man. Some are just wronger than others." Usually she changes a letter in her name at the end of a romance, so she won't have to hear her old name on a new lover's lips. As a matter of fact, a recent, rather complicated amour prompted her to make a double switch in the lineup of letters. But after her latest fling--Misty is definitely going to take a mulligan on this one....
Zen, Activism Meet in Garden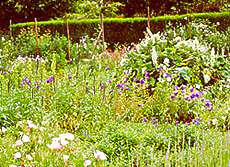 By Nina Wu
When most people envision a Buddhist, they see a bare-headed monk seated on a cushion in the middle of a temple, chanting or meditating all day while trying to reach a state of nirvana. Or they think of Japanese Zen masters who spend their days raking tiny rock gardens, knowing the patterns they create will be destroyed the next day. Many people believe that to be Zen is to retreat and to let the material world slide by while developing the inner self. To be Zen is to practice letting go. Yet a group of Bay Area Buddhists – mostly converts from other faiths – believe it is more than that....
Ticker Tape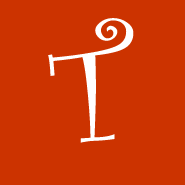 By Joe Smith
The Women spill out of the frigid tomb of a fish-packing shed all talking at once. From what I can catch of their rapid, clipped Spanish, like the tap of stiletto heels marking out a quick tango on a hardwood floor, they're chaffing the youngest among them about some gringo smitten by her charms. "Donde está el bubblegum boy hoy?" chirps one of the women as they tromp across the loading dock in their insulated rubber boots. The peculiar sobriquet, whether it refers to the smitten one's pinkness, his sticky ardor, or his malleability, launches quite a few titters and playful tongue clucks....