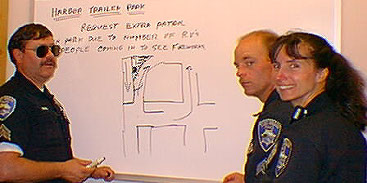 From left to right: Sergeants Floyd Higdon and Tom Sly and Officer Mary Miller discuss traffic problems
KEEPING THE FIREWORKS DOWN IN FORT BRAGG

louis martin
cns news & features
Fort Bragg--
SO WHAT IF it wasn't really the 4th! Saturday the 6th was a better day, anyway. Celebrate Independence Day ON Independence Day? Now how independent can that be?
And on Saturday you could catch the tourists too, remarked an official. Make some dough. Anything more American than that?
The town? Fort Bragg on the North Coast of California. A town where the economy always seems to be taking a hit and any kind of bucks--tourist or other--seem welcome.
It's the biggest town between San Francisco and Eureka, has the second largest saw mill in the world and a scenic coast line--but not always enough logs or tourists to fuel the economy.
But on Saturday the 6th of July it did have one thing that larger towns with more robust economies have--it had a traffic jam coming into town from the south. Not a big traffic jam, it is true; not like Friday night on Van Ness in San Francisco. But still a bona fide traffic jam: about a 10-minute delay into town.
But traffic jams are not the only thing new in Fort Bragg. The town also has a new, thoroughly modern police station. While the town itself may be going straight to hell, as some critics have charged, the police department is not.
The old concrete-block police building on Main Street now has become a piece of history. And none too soon, according to those who worked the old station.
"There is a lot of history in the old building," said Sergeant Floyd Higdon of the Fort Bragg Police Department, "but it's not necessarily a good place to work." Higdon is the shift commander for the afternoon and evening of the 6th. He's been with FBPD for 15 years and knows Fort Bragg, a town of some 6500, maybe better than he wants--its law-abiding citizens, its characters, and its inveterate trouble-makers.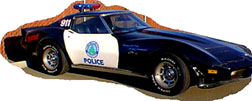 AS THE SHIFT begins at 3 PM, the annual salmon barbecue is in progress; fireworks are scheduled for 9:30. At the 3 PM briefing session, various potential problems are discussed, including keeping the bridge open at the south of town. That's high-priority because it connects medical and fire services at the north end of town with the barbecue at the south end.
A memo spells out another problem: warm weather, alcohol, and long lines--the makings for human friction anywhere. There were two fights at the barbecue last year--both of them family fights. And somewhat oddly, they were both the reversal of the usual pattern of domestic violence: men beating up women. Last year it was the women beating on the men. But apparently that reversal pattern is becoming increasingly common. Said Ynez Anderson, secretary to police chief Tom Bickell, "The women seem to be fighting back."
While the July 6 memo anticipates many problems, police work is not always predictable. Which is probably what keeps it interesting. Expect the usual, and you are in for a surprise. Relax, sure, why not? But order a burger and don't expect to eat it.
The first call is neither for a fight between two boozed-up guys who have been standing in line too long, nor for an elderly woman who has keeled over in the sun. It is for . . . what? . . . Lucy's Laundry. Rags in a dryer have caught fire.
As Sgt. Higdon pulls up in front of Lucy's, smoke is pouring from the door and customers look nervous about clothes left inside. The manager of the laundry is wringing her hands. She says the rags are from a restaurant; she sounds accusing. A greasy spoon against which she has a grudge? Who knows! But soon FBFD arrives on scene and the situation is under control. A large fan is placed in the doorway of Lucy's to draw out the smoke.
This is not the first time Lucy's has caught fire. Its location--about a flock form the fire department--is probably what has spared it this long.
It is a hazy afternoon, but clear of coastal fog, in the town that has the highest crime rate on the coast north of San Francisco. Fort Bragg is the biggest town along the 286 miles of coast line between San Francisco and Eureka, and it has the highest crime rate of any town along that stretch of the coast. FBPD make about one and a half times as many arrests as are made in the combined coastal regions of Sonoma and Marin counties.
While it has ample crime, it has no jail. Too expensive, according to city planners. Prisoners must be escorted some sixty miles over the hill to the county jail in Ukiah. While it shouldn't influence whether an arrest is made, in reality it sometimes does.
As Higdon heads south on Main towards the harbor and the barbecue, he spots Mendocino County Sheriffs deputy Scott Nordine on the east side of the road detaining a young man. Higdon hangs a U and pulls his car up in back of Nordine's. "Wanna make an easy arrest?" Nordine asks Higdon. "I'm supposed to be down at the picnic," he adds.
Higdon doesn't look like he relishes the job but accepts. The Sheriff's department is in charge of patrolling the picnic, which is held on the south side of the harbor--just beyond city limits.
The young man's name is Jay. He has long brown curly hair and is dressed kind of like a hippy biker--short-sleeve black leather vest and black pants. The problem? He has a warrant out for failing to attend classes on domestic violence. Domestic violence, according to Police Chief Bickell, is one of Fort Bragg's biggest problems. The combination of high unemployment, drugs, and alcohol don't help the matter. Alcohol is a tradition in the little town that supports 13 bars. While it was once undoubtedly a pain killer for long hours and hard work cutting logs, these days it is a pain killer for other human misery.
The young man is friendly; he smiles, jokes, makes light of being arrested. Not everyone takes being arrested with a smile.
He is transported some two blocks to the police station, and is cited and released. The computer shows a long record of trouble, but apparently he has been staying out of trouble recently. His excuse for failing to attend classes? He hasn't been able to find where classes are held, he says.
"Well, you can explain that to the judge on the 29th," says Higdon. Higdon has seen it, heard it before.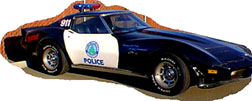 Along the north side of Noyo Harbor, between a tourist restaurant and a fish processing plant, is a trailer village--old trailers crowded together. Here a radio blares, there a small group of young men stands around a pickup drinking beer. Between the trailers and in front of them are little dirt yards, occasionally fenced and with a table and a barbecue. "Yes, it is Heaven here," sighs Higdon. He means, of course, the opposite. These are the poor of the poor of Fort Bragg--mostly Mexican workers.
Further down the road toward the jetty, another patrol car has stopped near an old blue van. An officer is talking with a young woman.
Higdon stops his car in back of the other. A call to dispatch reveals that there is a warrant out for her arrest. The plot thickens a little.
What brought attention to her in the first place was an argument, or what looked like an argument, between her and her boy friend. As the patrol car was driving out to the jetty, the officer saw her boy friend holding up a bottle of beer as though about to hit her.
Stated her boy friend later: "That's the way I get her attention."
The radio check then revealed the warrant.
Some warrants are serious, other less so. This one turned out to be of the lesser sort. She had failed to clear up a county dog citation issued in 1992.
"See, I told you I was a good girl," says Delsie, smiling at Higdon down at the station after a computer search showed no record other than the dog citation.
More often than not, the computer search reveals multiple arrests. The tendency to commit crime is not uniformly distributed across the population. Like its opposite, saintliness, it is concentrated in a few.
If you are not used to being arrested, it can be a bit of a shock. Humor helps a little. Says officer Mary Miller, dead-panning while shooting Delsie's mug shot, "This is for the newspaper."
"Really?" asks Delsie, then lights up with a smile as she realizes it is a joke.
Higdon cites her and gets her "on her way" as soon as possible. Still, with finger prints, mug shot, and ride in the rear of the patrol car to the station, it is an experience she's not likely to forget.
And of course there are the serious calls--ones that require quick action and nerve. As Higdon drives out across log-stacked Georgia-Pacific yard--"I've seen higher piles," he remarks--a call comes in: bottles are "flying out the door" of the Welcome Inn on Redwood Avenue. Bottles, of course, don't have wings; they are thrown.
Higdon whips the white and blue Chevy around in the packed dirt of the big GP yard and aims for the gate. The gate, operated by an alert attendant, opens just before he gets there.
While Higdon charges through the front door of the Welcome Inn, Sgt. Tom Sly covers the rear. Officer Rick Delfiorentino, amiable giant of the FBPD, ambles in moments later.
But by now the fight s over. One of the participants, a heavy-set Latino male named Eddy and apparently the one who started the fight, sits out back with blood streaming down his face. Another named Rocky sits at a bar stool. "What really burns me up," says Rocky, dabbing at a scalp would with a white handkerchief, "is this cost two-hundred and eighty dollars." He holds out the broken ends of a pool cue.
Delfiorentino, notebook in hand,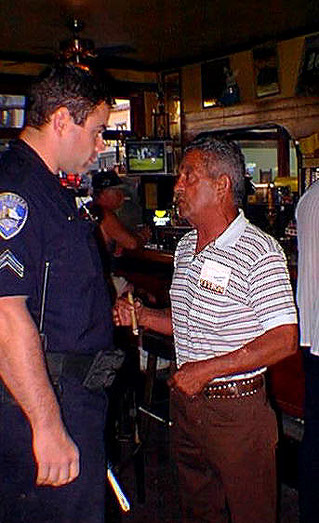 questions others who confirm that Eddy indeed started the fight. Rocky, acting cool about the whole thing, says he doesn't want to press charges.
An ambulance arrives out back for Eddy. "I'll kill that son of a . . ." he announces before two ambulance attendants and three FBPD officers--plenty of witnesses for the DA should he actually carry out the deed.
Fort Bragg's 13 bars are not classy. They are places where guys--and sometimes woman--go to numb themselves, to forget their misery. An odor of decay clings to them.
"There used to more," says Higdon. In the old days, he says, "there used to be a bar and a whorehouse on every corner." He remembers some that have passed away during his 15 years with FBPD: Buk's, Club Fort Bragg, Rosebud, and most recently the Coast Hotel. The Coast Hotel was one of the more peaceful ones, serving only beer and wine in its final days--owner Bob Santos' way of avoiding the heavy-drinking crowd.
The salmon barbecue, combined with the 4th of July celebration, is the biggest day of the year for FBPD--with the exception of Paul Bunyon Day. "It's three days long," says Higdon. Three days of boozing is harder to deal with than one.
And so time passes in the old logging town until it is time for the fireworks.
In San Francisco on the 4th fireworks were shot from four barges out in the bay. Get up on any hill in the city, or go down to the waterfront, as most did, and you could see them. And there were lots. San Francisco has a bigger budget.
In Fort Bragg most revelers walk down to the bridge over Noyo Harbor or go out to the jetty. Those with boats take them just out of the harbor entrance and watch from there. The fireworks are shot from Todd's Point on GP property at the north of the harbor.
This year Fort Bragg had 400 missiles to launch over the water. They are arranged in a double row on the cliff's edge. The display, which is shot up in about 25 minutes, took from noon to set up, according to the head pyrotechnician dressed in goggles, hard hat, and heavy coat.
"You build up, then you let down, then you build up again, then let down . . . ." Eventually, there is a finale, then the spectators drift away. The symphony is over. There are no encores.
Occasionally one blows up just after it takes off. Close up they look like rocket launchers. Close up it is frightening.
Over the water or seen through the trees of the model forest at the GP mill, it is quite lovely. Like jewels sparkling or a night of bright stars, it is an aesthetic experience that appeals to all. On the 4th, the 6th, or any other day.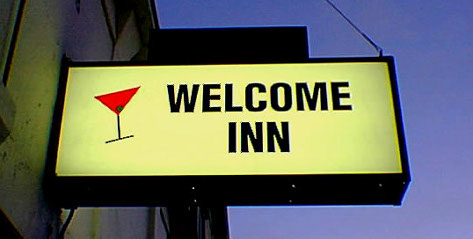 ---
Comments?
editor@coastnews.com
---