Home | City Notes | Restaurant Guide | Galleries | Site Map | Search | Contact
San Francisco—June 16, 2007
Last time, this space made fun of some of the ads for restaurant help on craigslist.org. Not totally a fair or nice thing to do, of course, but nevertheless interesting and revealing. In San Francisco the restaurant business is a strange one, with some of the owners and managers being the strangest characters outside of a Stephen Spielberg dream. So, in the name of learning something new and revealing, let us do another restaurant crawl on craigslist.org. Maybe next time we will do a bar crawl.
Asia de Cuba is seeking a Maitre d', or head waiter, at its restaurant located in the Clift Hotel on Taylor Street. Says the ad:
This qualified individual must have good communication skills, must be able to take direction and follow through on assignment, and must be able to work nights and weekends. Restaurant experience is preferred.
"Restaurant experience is preferred?" How picky can you be about your head waiter in a restaurant that would have you believe it is one of the best in the City?
And damn, here we go again! You gotta also have "communications skills." At the same time, however, you gotta be able to take directions. Now I maintain this: Anyone with good communication skills never takes directions! They may appear to take directions but in fact they give directions. Nice to think otherwise, Asia de Cuba. And good luck finding this docile communicator with at least some restaurant experience to run your joint.
Let's see what else craigslist.org has to offer.
From North Beach we have this (and no wonder this place does not give its name):
HOT NIGHTCLUB AND RESTAURANT LOOKING FOR BARTENDERS, SERVERS, AND A HOSTESS. MUST BE WILLING TO WORK ALL WEEKEND NIGHT SHIFTS AND HOLIDAYS. PLEASE ON SERIOUS REPLYS THANK YOU. PLEASE EMAIL ME YOUR RESUME AND ALONG WITH A PHOTO HEAD SHOT
Is that "ONLY SERIOUS?" And what about a period, or at least a comma, before the "THANK YOU"? Now if they type their ads in all caps, does that mean they shout directions at restaurant employees? My guess: YES.
My suggestion: Send the bastards a BUTT SHOT and a piece of your mind! All weekends and holidays? What a nice job!
Okay, one more:
Back to Asia de Cuba, where elsewhere on craigslist.org they are looking for a bus person. Now here the ad reads:
Min 1 year experience in a high-volume restaurant.
Now why does the bus person need at least a year of experience when, for the Maitre d', "experience is preferred" but not an absolute requirement? I kind of thought you started as a bus person and worked your way up. But apparently not the case at Asia de Cuba. And does this mean that if you do really well as the Maitre d', you might someday move up (down?) to a bus boy position?
Let us see if there is anything else.
Bocadillos is "seeking a part-time Host/Hostess for Friday and Saturday nights." Hm, the first normal ad I've come across. Go for it! Bocadillos has a history to it. It is the location of the original Black Cat in San Francisco. It was a very popular Bohemian hangout back in the 30s and 40s. It was based on the famous Chat Noir in Paris (photo below). The only thing in recent times that has come close in spirit to the Black Cat is Enrico's Sidewalk Cafe, and of course that closed last year. Sad to see the best of them go. Both of these places you could hang out, drink, eat some food with friends, listen to the music ... They didn't try to get rid of you. Bocadillos wants communication skills and some experience, but that shouldn't be a problem. Prove your communications skills by lying to them. Tell 'em you are the former Maitre d' from Asia de Cuba.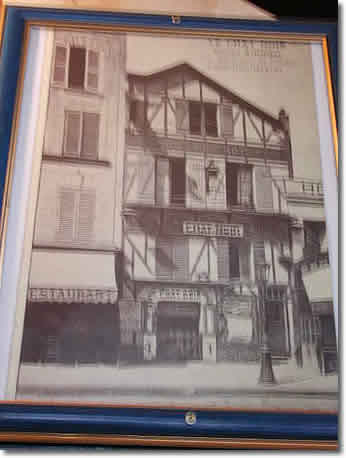 Nearly every Sunday I skim Michael Bauer's piece in the San Francisco Magazine. He writes about a new restaurant each time. Michael has been to many, many restaurants—so many that they must all kind of blend in his mind. I mostly like his pieces when he writes clearly, simply. He often does. But occasionally he writes like Kenneth Baker writing about abstract art. Probably what he is writing makes sense to him and has some basis in fact, or at least a common reality. Some of the time, however, it is more like expressionistic art. I'm not sure I'm seeing what he sees. But I still have respect and read some of the words before giving up and going out for donuts. Such devotion to food is interesting. In the Bay Area. It is almost astonishing considering the many problems in the world. How does one even have an appetite at times with bodies blown to bits in Baghdad and the assault on reason in the White House with only the occasional chirping objection of senior congressional "leaders"? But maybe that is how we survive: The worse things get, the more California turns to artisanal cheese and white wine with attitude.
One thing that bothers me is the focus we place on food alone, as if service, feeling at home, and lingering at the table, or "hanging out," do not matter. The French have a word for eateries that offer more than food: le bouchon. Le bouchon, says Yves Rivoiron, owner of Café de F édération in Lyon, is about ambiance, conviviality, and "le bien manger." Yes, they have food; good food, excellent food. But customers come to spend the whole evening at le bouchon, he says. The French are picky about words. Says Rivoiron about a bouchon, "C'est pas un restaurant" (It is not a restaurant). Now let me ask you this: Do we have bouchons in San Francisco? Ever spend the whole evening at a restaurant in The City? Not likely. Try it and the staff will devise a way to move you along. Does "Anything else?" really mean anything else here? It's a polite way of getting you to pay and getting you out of the restaurant, which is more about money than ambiance, conviviality, or le bien manger. Sure, the food is cutting edge. That is what you're there for, right? But once you have consumed it and paid, it is time to make room for others. Very few places try to be more than that in San Francisco. Enrico's did and succeeded but what has come along to replace Enrico's? Enrico's was not based on a marketing model that is in favor these days. The current model puts profit first, satisfaction de client last.
I remember a Christmas season dinner at Anjou hear Union Square when we and another table lingered a bit after the meal, which was excellent. The staff opened the doors wide—it was December—and succeeded in freezing us out. Have we been back? Never. Food is only part of it. Service and other stuff matter!
Now let me cite an exception here: La Folie. We went there another year; I think it was the Christmas season also. There was a short delay getting our table—we had a reservation—but once we were seated it was clear that that was our table for the evening. Two or so hours later, with desert and coffee, owner-chef Roland Passot came out of the kitchen and walked around to each table to say hello and ask if there were any questions about the plates. Salut, Roland Passot.
I see that Teatro ZinZanni is looking for a "skilled and professional food and beverage server." Here are some details:
A minimum of 3 years experience in a high volume fine dining restaurant.
Enthusiasm and excitement about creating a spectacular guest experience.
An innate understanding of hospitality.
Commitment, dedication and loyalty to a committed, dedicated and loyal ownership.
Now that I can buy. Read that last line again, please. Any problems with that? I don't think so. They are looking for a relationship that is going to translate to a customer relationship. They are also offering benefits: medical, chiropractic, dental, vision ... Are they crazy? Take care of the employees? What a wild idea!
Bravo Teatro ZinZanni!
---
Notes:
Top photo of ravioli from Immortales in Barcelona. While this plate was excellent, others were not as good. Service was asi asi.
Quote from Yves Rivoiron is from BBC series.
Photo of Chat Noir is actually a photo of a photo. The original Chat Noir in Paris was demolished in 1953 and rebuilt in 1955.
---
Home | City Notes | Restaurant Guide | Galleries | Site Map | Search | Contact