Earthquake Building Safety Report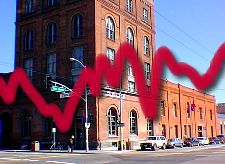 By Andrea Perkins
... It has only been in the last couple of years that the city has accurately mapped liquefiable soil areas, such as those comprised of old landfill or saturated sand. These delicate areas are especially vulnerable during earthquakes. They are often densely developed, like Multimedia Gulch, which is located on the worst fill in the city. Only now is the city conducting a "hazardous building survey," the very first ...
Big Trash, Bright City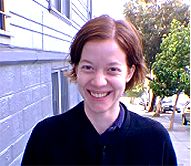 By Katie Degentesh
It was a Sunday afternoon, sunny. Exiting the posh organic grocery store on California Street, the one I've affectionately dubbed "Whole Paycheck," I was carrying two full brown bags by their trendy handles. After walking less than one block in the direction of Fillmore Street, I saw them: A well-dressed woman in her late 50s, a younger man in baggy shorts and a T-shirt, and five or six large black garbage bags filled with such potentially attractive trash ...
Halloween Hacienda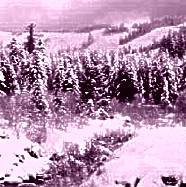 By Joe Smith
Some centuries ago a man noted that the cosmos is in love with whatever is to be. His response was to say to the cosmos, "I will love with you, then." These words, which might well belong to a man saddled with a shrewish wife, are in fact from the musings of an old soldier faced with the task of keeping hordes of fertile, perfidious savages on the other side of the Rhine. Like starch in a shirt, the melancholy resignation of Marcus Aurelius' meditations have come down to us unwrinkled ...
City of Paris in San Francisco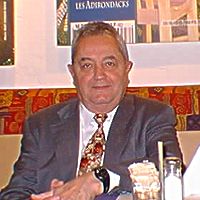 By Kathy Nguyen
About all it takes these days is the glimmer of the new golden domes on City Hall to evoke memories of the gilded monuments of Paris. Venture no further than downtown San Francisco, and you'll be transported to the bistros and sidewalk cafés of Montparnasse, where literary expatriates the likes of Ernest Hemingway, F. Scott Fitzgerald, Anais Nin, James Joyce and Gertrude Stein spent many an hour ...
Maverick's: Sleeper Controversy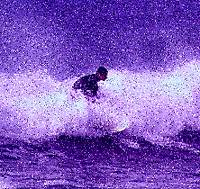 By Michael Breen
Pumpkins and Christmas trees were once all that Half Moon Bay, California, was known for. Today, it is known as home of the world's largest surfable waves....But exposure has brought inevitable change to the once-quiet town, and not everyone likes it. "It's growing like gang busters," says John Zents, a 15-year resident who moved to the town to find peace and quiet....
Qi Gong: You Can Find It Everywhere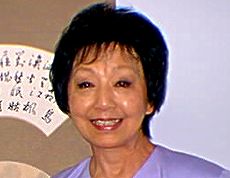 by Nina Wu
Offering an alternative to conventional medicine, qi gong is an ancient mind-body healing system from China that attempts to cultivate inner energy through a combination of slow movements, meditation and breathing exercises. The ancient Chinese exercise is growing popular in the United States as part of a broader interest in mind-body medicine....
Food for the Mind, Body and Soul
By Kathy Nguyen
... In Union Square the sidewalks resemble a sea of floating umbrellas carried forth by wave after wave of tenacious tourists and shoppers wielding digital cameras and bag loads of merchandise. Beyond the stream of shoppers in the City's most gilded district looms the imposing entrance to Chinatown at Grant and Bush. Its columns of snarling dragons ...