"I don't really do pizza," said my friend Belvie Rooks. She was just back from Mendocino. "But I hope you check out Piaci in Fort Bragg. Best pizza I ever had."

She made pizza sound like a drug. I don't really "do" the stuff either; it's not one of my habits. But I have nothing against it; in fact I have friends who eat it all the time and they are A-okay people.

But if I were going to check out Piaci in Fort Bragg, I was going to have to find a San Francisco connection. You see, Maureen, our editor, is tough as nails and doesn't let us writers flit around wherever we want. There must always be a reason, a connection—in other words some damned logic to what we do. Just once it would be nice to do something because it was fun or you wanted to, but that's not Maureen's style. I'll bet her husband ... Well, I better stay away from that.

So, in search of a connection, I did some pizza research. First of all, it turns out the stuff has been around in one form or another for a long time. The Greeks ate a form of it called plankuntos: flat bread with various toppings. Second, what is thought to be the world's first true pizzeria, "Antica Pizzeria Port'Alba" in Naples, opened in 1830 and is still in business today. Then I discovered this: the best pizza outside of Italy is reputed to be made in San Francisco. Right in my own neighborhood in fact! It was a little like finding out that the love of your life is the girl next door. The place was called Tommaso's in North Beach.

Before I drove up to Fort Bragg, I decided I had better walk over to North Beach and pay Tommaso's a visit.


Tommaso's is located on the right side of Kearny just before it runs up the hill into the sinful part of Broadway. I arrived about 4 in the afternoon and found one of the owners, Agostino Crotti, sitting at the entrance smoking a large cigar, his face dreamy-looking and content. For a just a moment I was sorry that, some years back, I had quit smoking.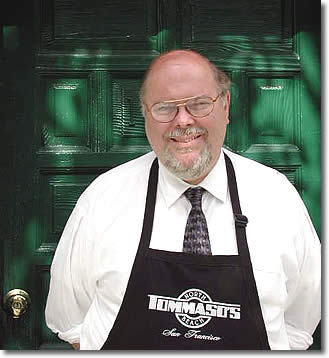 "Would you like some coffee?" he asked. We sit at one of the tables by the wall drinking coffee, his sister and co-owner Carmen in the background. The place is quietly preparing for the evening while Crotti gives me a brief history of the restaurant.
"We took over in '73," says Crotti. "This is an established restaurant. It is actually the first pizzeria on the West Coast."
The Cantalupo family from Naples opened it in 1935 and built the wood-burning oven that is still in use today. Back in the 30s it was "a famous place," he says. People like Bob Hope, Jack Webb, and Betty Davis all came up because "there was nothing in LA." That was understandable. I feel the same way about LA today, although one might put it differently: today there is a "lot of nothing."
In 1971, after 36 years of operating the place, which they called Lupo's, the Cantalupos got tired of the business and, according to Crotti, "Instead of selling it, they gave it to the cook."
The cook was a Chinese gentleman by the name of Tommy Chin who had worked for the Cantalupo family for twenty-five years. The only stipulation in giving Chin the restaurant was that he change the name. The wise Mr. Chin decided to call it Tommaso's.
"He was a good chef," says Crotti, "because they taught him all the recipes of the family." In fact, Chin passed on all his knowledge to the Crottis when they took over, and he stayed with them and the restaurant until he died in 1977.
"He taught me how to make the pizza dough, he taught my mom how to use the oven, and he taught my sister Lidia ..." In short, Tommy Chin passed on his considerable pizza knowledge to the Crotti family.
Lots of restaurants come and go in San Francisco, and weekend diners flock to the new ones based on a new menu, fusion this or fusion that, a celebrity chef, trendy drinks, or whatever. But that is not what Tommaso's is all about. Says Crotti, "We are not a trendy restaurant. The menu that you see today is basically a 70-year-old menu."
The Crotti family was not experienced in the restaurant business when they took over. They arrived in the United States in 1969, and Agostino started working at age eighteen at Caesar's, then at Cafe Trieste, the oldest coffee house in San Francisco. He worked at Caesar's as a bus boy, and at Cafe Trieste he made coffee.
Crotti did not even know Tommaso's existed until one of the old waiters from Tommaso's, who came up every morning to Cafe Trieste for a cappuccino and a croissant, asked him if he could come down and help out bus dishes on a weekend.
Starting out as a bus boy seems to be a common story for successful restaurant owners in North Beach. The same is true of Lorenzo Petroni, owner of North Beach Restaurant and a friend of Crotti's. Busing dirty dishes or washing them seems to sharpen the focus of a young man as no other task can. Success, though not guaranteed, become much more likely. Perhaps if some of the presidents of this county had had to bus dirty dishes when they were young, rather than go to private schools and party all night, we would be dropping fewer bombs and feeding more people. But that is another story.
Tommaso's pizza is "true Neapolitan," says Crotti, and the crust is an important part of that. The basis for the dough is flower, water, yeast, and olive oil. "It has to be done right," he says. "If you use beer or weird things like that, it's not going to be a classic pizza at all. A lot of people try to improve it over the years and they screw up."
The Neapolitan crust is a thin crust. Chicago pizza, which has a thick crust, is "not pizza,"says Crotti. "It's an American invention."
Everything is cooked in the wood oven with oak, and that not only imparts a unique flavor to the pizza but the heat of the oven allows for faster cooking.
Tommaso's wood oven, which is big—eight-feet long—was built by a German back in 1935.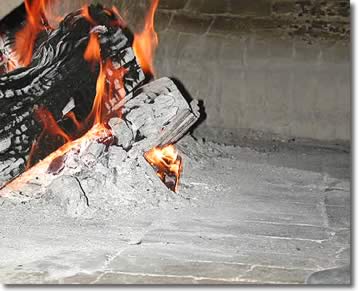 Cooking in a conventional oven, says Crotti, "takes the soul out of it; it dries out the moisture." In Tommaso's over, in which the temperature is about 800 degrees, pizzas cook in three to four minutes. Coal will also produce very high heat, says Crotti, but "there is less flame, so it doesn't get the crispness and the color that you get in ours."
The oven is fired up every morning at 11 o'clock. In the name of great pizza, Tommaso's goes through a cord of oak every ten days.
Concerning toppings, Crotti says anything can go on a pizza "if you use common sense." Unfortunately, common sense is in short supply these days. At such places as Pizza Hut it is possible to order a pizza with Pineapple, red onions, peppers, ham, bacon, triple cheese—you name it—which is typically washed down with a quart of Pepsi Cola.
At Tommaso's they use mozzarella cheese but mix whole-milk and part-skimmed to control the moisture. "The tendency with fatty meats like pepperoni, if you use a very high-fat cheese, then you might have a problem because of too much moisture. Then you can see the fat on the pizza and that is not appealing. So [if] you control the blending of the cheeses, then you have a better result."
There are 20 standard pizzas on the menu, which according to Crotti, "covers almost every desire, but there are always exceptions. We can substitute or change ingredients. There are people who cannot have prosciutto because of religion or dietary problems, so we can put something else instead. We are very flexible." Since every pizza is made from scratch, everything is possible, he says.
Every business has its problems, some big and some small. At Tommaso's the two biggest problems they have is the wood and the dough. Wood is the biggest. "The dryness of the wood is very important," says Crotti. If it is not dry it does not produce the heat.
The other problem is heat waves and the dough. "If you leave a patch of dough at room temperature on a hot day, you are going to have nothing but problems. It keeps on rising and rising, and when it is out of control, it just becomes a balloon and you have to throw it out."
But with 70 years of accumulated experience these problems are well under control. At Tommaso's you can count on consistency and time-tested recipes. Among other dishes, they also serve spaghetti and meat balls, lasagna, and manicotti, considered passé at the trendier restaurants. If you enjoy eating these classics, you can get them a Tommaso's.
With Tammaso's pizzas you will surely want a glass of red wine—not Pepsi—and Tommaso's has its own label. It's a syrah. They also have a wine club which you could ask about. It's run by nephew Dario. Hey, this is a family business. Got the picture?

I left Tommaso's and walked on up to Broadway. On Broadway I passed Enrico's without going in for a drink; approached the Hungry i and changed my mind about going in to see some girls I know; then headed up Columbus towards Stockton and North Beach Restaurant.
Marilyn fixed me a lovely Mezzaluna Martini and I contemplated my trip to Fort Bragg up in Mendocino county. Now as I understood it, Piaci was the brainchild of a certain Mr. Muto.
I had heard of this Mr. Muto before. He once had a place called "Roadhouse Cafe Nighttime" in the little town of Elk. There, for a short period of time, he had produced the most wonderful and inexpensive Italian food the town had ever known. Then, when it was a great success, he had shut it down, bang, just like that. Folks were heartbroken. Some, I have heard, even went on a hunger strike. But this Muto fellow refused to reopen the place.
This Mr. Muto was an interesting character, and rather different from Agostino Crotti. Though not into 100% consistency, either in food or his own actions, he was a genius in his own way. When his interest and attention was there, he could cook you a meal that would break your heart. And he was a great talker too. While you ate and he talked, anything—a piece of toast, a boiled egg, anything at all—tasted delicious. When he stopped talking, it was never quite as good. It was as if Mr. Muto's voice itself was part of the seasoning.
I drove up to Fort Bragg on a Wednesday. The town was full of tourists. The Georgia-Pacific mill, the second largest saw mill in the world, is closing; and it looks like tourists have replaced those logs the mill used to process. While it is kind of sad to see big guys with muscular arms who used to operate heavy equipment in the mills and out in the woods now working in boutiques selling souvenirs to city folk, there is a certain convenience in the change that has taken place. Tourists, unlike logs, drive themselves into town, unload themselves from their cars, and deposit themselves nicely in restaurants and shops to spend money. Hauling logs was never so easy.
Piaci is located a little off the beaten track. It is on Redwood Avenue west of Main Street, just a stone's throw from the old Mill. A colorful flag out front announces that something is there, but Piaci is not like the other restaurants in Fort Bragg: It let's you find it. In fact, wondering up on Franklin Street I finally gave up and asked, "just where the hell is ..."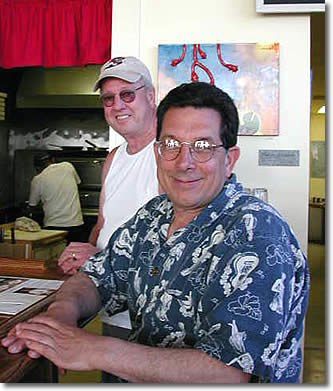 Mr. Muto (left with co-owner Jerry Warner in background) is bringing out bowls of soup when I arrive. Gregorio, his Hispanic chef, has made a Mexican-style soup with mussels. I sit down to a bowl of soup and a glass of red wine. Typical Muto tactic for keeping things off balance. We will probably have apple strudel for desert. Down in Elk, when he operated Roadhouse Cafe Nighttime, he had a German chef who made Chinese food for the restaurant staff while reading a book and producing beautiful plates of pasta for restaurant diners.
Mr. Muto is third generation Italian in the US, and he is the first of the family in the restaurant business. His mother's family came from Milan, his father's from Calabria.
And how did his career begin? Like all the best: "I started working as a dishwasher when I was thirteen years old." But in a Greek restaurant, not an Italian one. "I had no idea that I was going to be involved with the food business for the next thirty years."
Muto has had an interesting a varied life. Here is the brief version:
After serving in Vietnam as a Navy frogman, he opened a record store. But because he couldn't make ends meet with the record store, he took a side job working at a pizza place, which he ended up buying. Then he sold the place, went to school for awhile, then opened another pizza place. The second place, in Quincy, was called Moon's Cafe. It was his first big success. So what did he do? Sold the place and split to Paris with the money.
He spent the next six years in Paris teaching at a language school that "focused on the food and culture of different countries." His knowledge of cooking expanded when he met people from other countries and they cooked for each other in their homes.
Back from Paris and out on the West Coast, he began working for an Italian with a Naples-style restaurant in Alameda. There he got his education in economics. "He taught me how to make a lot of money off of food. It is very hard normally to make money off of food." But if you know how, you can do it, says Muto.
Muto got married, moved to the Mendocino coast, worked as a wine waiter at the Heritage House, a sales person for Roederer Estates, and finally opened Roadhouse Cafe Nighttime in Elk. It was a smash success among locals, about half of whom are of Italian heritage. It was inexpensive but tasty. "It was geared for the local pocketbook," says Muto.
But even tourists with more exotic tastes found it satisfying. And there was nothing more thrilling than seeing Muto come out of the kitchen bearing plates of steaming hot pasta and hearing him say "Bon Appetit" in a resounding voice that really meant it. The place was magic.
Then the magic died. The challenge went out of it. And for Muto, challenge is what makes life worth living. "I'm looking for something more always."
With the place in Fort Bragg now running smoothly, Muto's challenge now is finding a second location in Santa Rosa.
The menu at Piaci, says Muto, was a collective effort. "Everybody who was involved, they'd say, 'you need to do this, I think,' and we would all improve the product." Take that, however, with the proverbial grain of salt. The Muto influence is all over the place.
Piaci uses a slate oven for baking. The cooking time is five to seven minutes normally—much longer than at Tommaso's—and it can go up to 10 if the over is full, says Muto. "Our pizzas are good," he says but adds: "I think they could be improved if we had a brick oven."
Piaci, like Tommaso's, makes a thin, Neapolitan-style crust. The dough takes about three days, say Muto. "We make a starter, and that's 24 to 48 hours." Then, he say, it sits in the refrigerator slowly fermenting until it gets cold enough where it stops the action."
The dough and crust are very important, he says. "We're trying to get a certain character, texture, and a feel in the mouth when somebody bites into our pizza. It's soft but it's also crispy on the outside; but it's not so crispy that it's like a cracker. It's more like a good piece of bread."
Like Tommaso's, the recipe is simple: water, olive oil, salt, flower, and yeast.
And also like Tommaso's, they buy "high-quality products" that go into the pizza. They buy from the local markets and also from a distributor out of Petaluma, which has "very good products and also inexpensive products. You have to tell them that I want a high-quality product; I don't buy just regular Canadian bacon, I buy the best made ..."
But for Muto the challenge is not just the food. "The challenge," he says, "has a lot to do with it being socially interesting." The environment Muto likes is that of the family dinner table where food is shared but there is discussion and even a good argument at times. He likes a place where "people can discuss and intellectualize problems about their community, about what they are doing, or even about national or international politics. That's when a place becomes interesting to me." Muto has been known to even start a little argument to make things lively. "Provocative is good," he says.
He also likes lively food, and doesn't shy away from experimenting. "We are not great chefs by any stretch of the imagination," he says, "but when we come up with a certain idea that we think is going to maybe improve the product, then we will experiment with it."
There are about a dozen pizza's listed on the menu at Piaci, and, like Tommaso's, they will make substitutions for customers. Says Muto, "we don't feel so committed to these pizzas that nobody should try something a little bit different. In fact, that is a big part of how we learn too. If the guest creates a pizza that we think sounds interesting, we might put it on the menu."
Muto also enjoys the theatrical element, both in the kitchen and out on the restaurant floor. At Roadhouse Cafe Nighttime he was notorious for dousing a sizzling skillet of steak fritte with brandy, sending flames high into the air—out in the restaurant it looked like the whole kitchen had caught fire—and when waiting tables, if a customer were interesting, it was not uncommon to find Muto sitting down at the table, glass of wine in hand, talking about Paris, coastal politics, love, sex, or oregano.
A restaurant should be exciting, he maintains. "The kitchen, the dinning room, the waitresses and waiters should be exciting for everybody to enjoy the place." The challenge, he says, is bringing a place to that point; and when you get there, he says, it is time to expand.
And at some point, he says, it is time to move on. "I don't have this desire to be there for thirty years."
Muto has been at Piaci for less than a year, so if you haven't been there, you still have time.
Before leaving Fort Bragg and driving back down the coast, I walked around the central part of the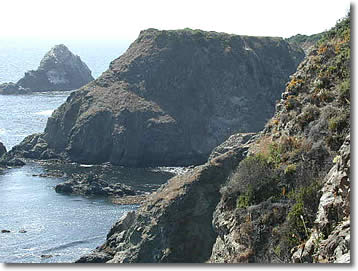 old town: Main Street on the west, Laurel on the north, Franklin on the east, and Redwood on the south. I head up Main Street to the Skunk train, now used for tourist excursions and no longer for hauling logs; then over to Laurel to the Headlands coffee house, where I notice that pianist John Gilmore is playing tonight; then down Franklin, which looks a lot like Polk Street in San Francisco, past Schott's bakery with its big brick oven, Racine's, Fort Bragg's "Office Depot," beautifully rebuilt after a fire a few years back, and the Tip Top Lounge, one of thirteen bars in a town that might normally squeeze in three; then back down Redwood toward Main. Fort Bragg is adapting to its new economy, in which timber no longer rates number one. I don't know what rating pizza has in its new economy but it is part of it. Because of Mr. Muto, third generation Italian with roots in Milan and Calabria, the whole town was doing the stuff. Bravo Signore Muto! Bon Appetit Fort Bragg!
Home | City Notes | Restaurant Guide | Galleries | Site Map | Search | Contact