Eating in Northern California has never been better. Cooks from dozens of faraway countries dish up delicious regional specialities, and chefs of the new cuisine haunt our bountiful wholesale markets to pick out the freshest, state-of-the-art fish, meats and vegetables. Even the lowly American hamburger has been transformed into a nouvelle delight.
Moose's in North Beach serves up some of the best burgers in the City. Co-owner Mary Etta Moose says the trick is to season the beef well (she uses hormone-free ground chuck from the Preferred Meat Company) and to shape the patties without squashing the meat. "You've got to pat the burgers so that you pat air into them, not out of them," she points out. "It's important not to compact hamburgers, or they don't hold the juices in those little air pockets." Of course, buns made especially for Moose's by the Acme Bakery add to the appeal of the popular "Moose Burger," which was christened by none other than Herb Caen, one of the restaurant's great fans. Hamburgers aren't even particularly featured on her menu. "Chefs don't like their place to be known as a hamburger joint," she laughs. Nonetheless, "People come from all over the world for our burgers."
Up here in Mendocino County, locals and visitors alike appreciate those restaurants that offer sophisticated San Francisco-style food. On the coast, fine dining favorites include the Albion River Inn, Café Beaujolais and Raven's, which features an exclusively vegetarian menu. Inland, in the town of Willits, there's Tsunami's, known for its fresh sushi, wild king salmon in season, and organic salad greens grown by local farmers. But county residents also enjoy good, straight-ahead food that's not so fancy, or so expensive. A new addition to the "must try" list is The Chief Drive-In. Tucked away in Laytonville, a small town about 160 miles north of the Golden Gate Bridge on Highway 101, The Chief has actually been around for a while, serving standard drive-in fare. Earlier this year it was taken over by popular -- and populist -- former county supervisor, John Pinches.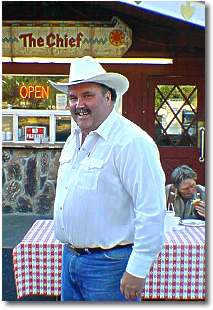 "We didn't change the menu much," Pinches says. "It's nothing fancy; it's just a hamburger stand, but we started using a lot better quality ingredients. Our beef is ground fresh locally every morning, right here at my sister's meat market (Sizemore's Meat Company in Laytonville). And we have the best milkshakes around." There's about a half-dozen different varieties of crispy french fries to choose from, and the homemade red cabbage coleslaw is delicious, too.
Pinches, a cattleman himself, would like to use local Mendocino beef exclusively at his restaurant, but federal regulations require that any meat served to the public be processed in a USDA-certified slaughterhouse, and no such North Coast facility exists. "That's one of the biggest problems with the beef industry," he explains. "There's a couple of corporations that run it all. The Iowa Beef Packers control 87 percent of the beef business -- it's the greatest monopoly in America. They control the prices, and they've run all the little guys out." He adds, "In the old days, my grandfather had a slaughterhouse in Laytonville, and he supplied local meat markets all around the area. That gets you better quality beef at a better price, but you can't do it that way anymore."
Business is good at The Chief, and getting better as the word spreads about how tasty and cheap the food is. The thick, nicely cooked and well-garnished burgers start at $3.25, and you can get cheese and bacon on top for just another 25 cents. "It's hard to compete with McDonald's and the other corporations," says Pinches, "but we're trying to do the best we can."
So the next time you're driving through Mendocino County and have a hankering for a quick meal, pass up the fast food joints and check out The Chief Drive-In. It's on the west side of the highway, next to Laytonville's laundromat. If you¹re lucky, Johnny Pinches himself will be there, wearing his white cowboy hat and a big grin, and talking grassroots politics with his customers.
---
Moose's, 415-989-7800
The Chief Drive-In, 707-984-6770
---