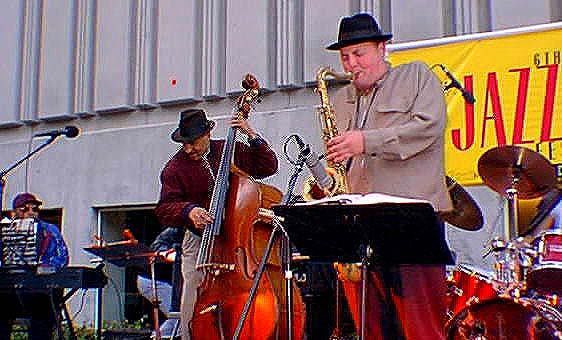 Miles Perkins, bass, Joey Marshall, saxophone of Mingus Amungus
JAZZ FESTIVAL FEATURES SAN FRANCISCO TRADITION: DIVERSITY

louis martin
cns news & features
San Francisco--
San Francisco is a city of contrasting cultures, and the opening of the Jazz & Wine Festival presented a contrast of musical styles that might not fit the strictest definition of what jazz is, isn't, or ought to be. But in a city that has built its reputation on tolerance, maybe that doesn't matter so much.
"The jazz festival," said Ann Dyer, marketing director for the festival, "is not really so concerned with defining jazz as presenting good music." The festival is open to music with jazz influences or music that has "contributed to jazz," she said.
Friday's opening ran the gamut: the traditional jazz of David Hardiman's SF All Star Big Band, Mingus Amungus, Papa's Culture, QBA ("Cuba"), and Avance.
Hardiman's band wore tuxedos and played sitting down. They were powerful and precise as they played the music of Count Basie from sheet music.
Mingus Amungus played the "charts" of Charlie Mingus--but not literally. They played them from memory standing up and with long, improvised solos. They, perhaps, represented the best of the living tradition of inspired jazz improvisation.
Papa's Culture was a curiosity. "Good music," yes; interesting music, yes. But Papa's music had only the loosest connection to jazz. It was described by Dyer as "Rhythm & Blues with jazz." But strain yourself to hear it.
QBA and Avance covered the African-Cuban connection.
Three separate band stands have been set up for the event on the promenade of the Embarcadero Center--a setting that is a little too rigid for music that is the antithesis of formal architecture.
The festival runs from Friday through Sunday, with proceeds from the wine sales going to the Dizzie Gillespie Jazz Education Fund.
On Friday the weather was clear, but cold winds in the early evening thinned out the well-heeled crowd to only the most dedicated jazz fans. With a glass of wine and the hot Latin sounds of Avance--forget about whether it is jazz or not--the evening was almost tolerable.
---
Comments?
editor@coastnews.com
---
Return to Arts & Entertainment Page?