MAKING WAVES BRINGS LOCAL, GLOBAL CITIZENS TOGETHER

scott martin
cns news & features
San Francisco--
San Francisco celebrated the summer solstice with live music on Market Street, where two hundred bands played on twenty-five stages. Musical acts were both local and international, as were spectators
The event, called "Making Waves," was inspired by France's summer solstice celebration called "Fete de Musique." San Francisco was the only U.S. city to participate in the global music celebration which involves eighty countries.
The focus of the event was unification: bringing different types of music and people together for the solstice. Said San Francisco Mayor Willie Brown, "San Francisco has long been a city of the culture and arts. Music has proven to be a positive tool to bridge communications and promote the diversity of our city."
Some well known local names featured at the event were the Unknown Giants (photo left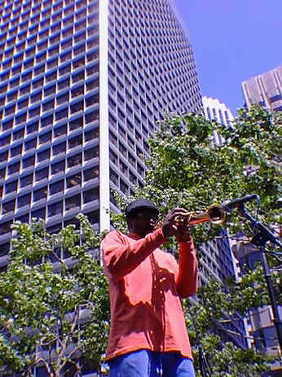 ,

), a jazz trio; Undercover Ska, a Ska band; and Teokalli, an Aztec drumming and dancing group from San Francisco's Mission district. There were groups from all over the world as well. Three came from Heidelberg, Germany. The city of Heidelberg sponsored one of the many stages at the fair and expressed its interest in becoming a sister city of San Francisco to promote cultural exchange.
Dominik Finklee of the Goethe Institute traveled with the bands from Germany. He said the festival was a great opportunity for people to check out Heidelberg. "Hopefully, people will see what we a have to offer here and there can be an exchange of cultures." He said that the Goethe Institute and the Alliance Francaise worked together to make the festival happen in San Francisco.
The warm weather brought out all types. Writer Porfirio Maldonado of San Francisco was out to enjoy the music and the people. "This is one of those few times when people get together through music," said Maldonado.
Harry and Rosalyn Larman, a retired couple from the Sunset District, were also out enjoying music and weather. It was their second year of attending the festival. The weather is always an unknown is San Francisco. But on Friday it was magnificent. Said Harry, "The weather has cooperated."
Marc Brabant came from France. He said he is very interested in cultural "cross-overs" in music in France as well as the United States. "I'm interested in French rap music, German rap music, West African French-American music," Babant said. "I'm following the culture here very closely."
Max Hoff of San Francisco--a self-proclaimed "Jazz fanatic"--came with his saxaphone teacher, Roberto De Haven. The two stood watching the alto saxaphone player of the Unknown Giants. Said Hoff, "I think that the solstice is significant because it is the longest day of the year here and the shortest day of the year somewhere else, so you have the extremes today."
Musical fusion in Heidelberg was clearly demonstrated when the Freddy Wonder Combo (photo left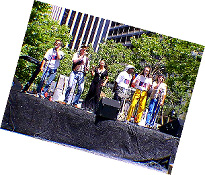 ,

,

) played funk, rap and music by Carlos Santana. Percussion Plus (photo right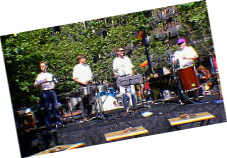 ,

) of Heidelberg played music by Scott Joplin as well as Brazilian samba, exhibiting a range of influences.
But it was more than a day of great weather, music, and international vibes. Business was good too. A street vendor selling hemp products reported that business was brisk: "Don't mind that I can't really pay attention to you; it's just that I'm kinda busy and can't get too distracted..."
There was extra congestion on the sidewalks downtown but street traffic appeared to be normal. Said a traffic cop on Market Street: "It's not too much different from any other Friday."
"Making Waves" brought many different people together for a day of sharing in the city: sun, street, music, and fun. Teokalli Aztec (image below), drummers and dancers dressed in tall feathered headdresses, brought its audience together when it asked for all to join hands, then called upon the ancient gods as people danced in a circle at the close of the show.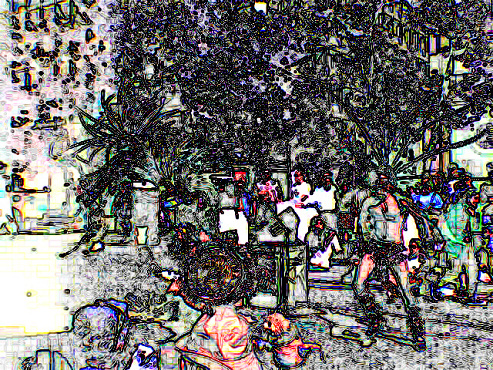 ---
Comments?
editor@coastnews.com
---