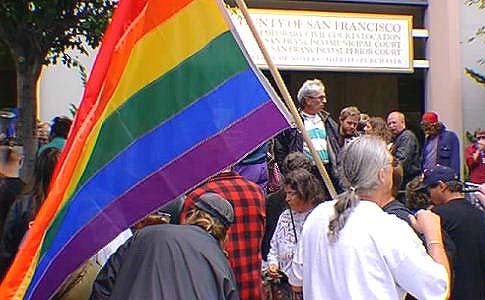 CITY, STATE CLASH OVER CANNABIS CLUB
scott martin
cns news & features
San Francisco--
Some see marijuana is a gift from God; other see it as a curse straight from Hell. The crafty, it is said, see it as a political wedge; a way, perhaps, to win an election. Whatever the case, the matter is now on hold following a raid on the Cannabis Club by State police on Sunday.
On Monday the case went to the San Francisco Superior Court for a preliminary ruling; by 3 PM a temporary restraining order was issued against the club. "We can go in the building," said Cannabis Club founder, Dennis Peron, "We just can't sell marijuana."
About 100 protesters waiting for the decision in front of the court house marched to the Cannabis Club when the ruling was announced.
Many protesters marched into the club and lit up. No medical IDs were checked as the rooms began to fill with smoke.
San Francisco Police remained outside.
Background
At 8 AM on Sunday, California Bureau of Narcotics agents raided The Cannabis Buyers' Club at 1444 Market St. in San Francisco, seizing the club's supply of marijuana--marijuana that officially, anyway, was intended for patients with AIDS, cancer, multiple sclerosis, and other illnesses.
"Doors were bashed in, machine guns were drawn...There were clearly AIDS patients who couldn't get their medical marijuana," Supervisor Sue Bierman said.
Basil Gabriel, an employee of the club,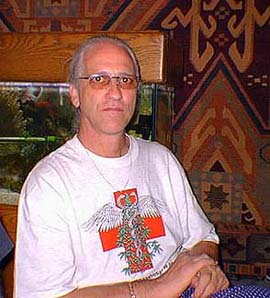 said, "I was asleep inside the club when I heard loud noises. I went out to tell the cleaning person to keep it down, when at least ten agents with machine guns and shields came for me."
Gabriel and others were handcuffed in the building while agents confiscated about 40 pounds of marijuana and thousands of dollars, said a bureau spokesman. No arrests have been made yet.
The club has been under investigation for the past two years, but it wasn't until recently that employees suspected they were in for a bust.
Said Garbriel, "When all of a sudden the photocopy store across the street vanished . . . we realized that the guys giving us free copies all the time and making friends with us and visiting us were agents."


Bureau View
To buy marijuana, Cannabis Club customers were supposed to show a Cannabis Club ID card and a drivers license. To be eligible for an ID, customers were supposed to have a doctor's prescription.
But according to the bureau, investigators got into the club and purchased marijuana on many occasions.
If that is the case, then "they forged documents to get in," claimed Peron.
Bureau spokesman Steve Telliano said the raid's purpose was to gather evidence showing that the club sold marijuana for non-medical purposes. According the bureau, profit--not medical treatment--was the real purpose of the club.
Politics & Policy Clash
Others saw the raid as politically motivated.
State Attorney General Dan Lungren, who oversees the California Bureau of Narcotics, is an opponent of proposition 215, the medical marijuana proposition on the November ballot that would make medical use of marijuana legal in California.
San Francisco has its own policy on medical marijuana, and the Board of Supervisors has tried to get medical marijuana approved at the state level. Former Mayor Jordan and the board at least partially defined city policy in 1994 when Jordan and the board declared that medical marijuana should be legally available to terminally ill people.
Jordan and board signed a resolution supporting a State Senate bill allowing marijuana use by terminally ill patients.
While the state legislature has passed such a bill, Governor Wilson vetoed it.
Supervisor Bierman supports local policy. "My feelings about the use of medical marijuana is that it allows some comfort to people who would be very uncomfortable," she said.
Melody Gannon, a card-carrying member of the cannabis club, said she was in a car crash and lives in pain. She has pins in her hips and arms. For her, she said, it's either being "all doped up and out of it--or two or three of these."
(8/6/96)
---
Comments?
editor@coastnews.com
---