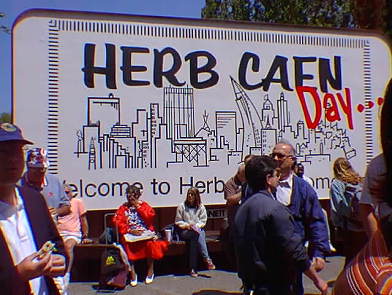 INCREDIBLE HERB CAEN DAY

louis martin, scott martin
cns news & features
San Francisco--
A rare thing happened on Friday in San Francisco. The city told one of its most illustrious writers how much it cared--while the man still lived.
Said baseball legend Willie Mays, speaking before the huge crown of well-wishers on Friday, "Any time you can get a street named after you while you're livin', that's great; all the streets I seen in Palm Springs, everybody's dead."
Part of the reason for the expression of feeling may be the result of Caen's leveling with his readers last month: he has inoperable lung cancer and can no longer produce a column a day as he has since 1938. Still, he is producing three per week--better than many columnists these days.
The illness may account for the rush of feelings; but clearly the feelings were there in the first place.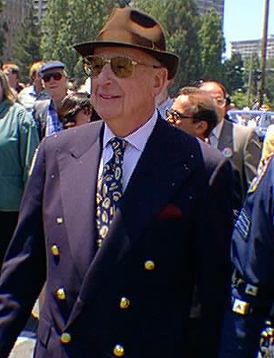 It just took the nudge of reality to bring them out--or the contemplation of breakfast without Pulitzer-prize-winning columnist Caen.
Celebrants arrived from all over, some from San Francisco but others from Marin, the South Bay, and as far away as New York.
John Ralston, a third generation San Franciscan, put it simply: "I've been reading newspapers all my life. I like Herb Caen's column." He said he's read Caen everyday since 1959. Asked if could conceive of not showing up for the event, Ralston replied, "Nope, I couldn't."
Bill Andrews came down from for Marin. He's been reading Caen since 1966. He said he reads Caen to know about events and people and also "for the feeling of the times we've been all been through."
San Francisco Police Officer Lee Dahlberg said the parade was an easy one compared to some. Having just come back on duty after a few days off, Dahlberg joked, "It's been a quiet day." Born and raised in the city, he said Herb Caen is part of his life. "Herb has treated everybody pretty fairly. It's most enjoyable to have him around, and hopefully we can keep him a lot longer."
Caen's perception of the city and its times accounts for much of the appreciation that people feel for him. It's as though Caen is part of the perceptual apparatus of the city.
Said Omar Frank, "Caen has a very unique perception in terms of how he reports." Frank said Caen not only has humor, but "there are serious times too. But most of the time he helps us to see it in a very positive way."
Nathan and Jean Kraft of Atherton took Cal Trains up to the city and a bus up Market Street to come to the celebration.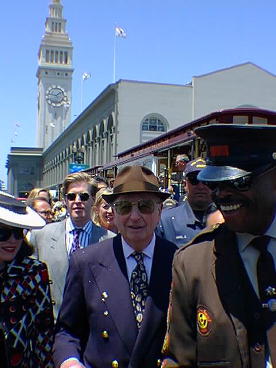 The Krafts have never lived in the city, yet Caen is part of their world. Jean has been reading Caen for forty years and likes Caen because "he's from our era. He likes the same music, and I like the way he writes--to the point." Jean has a no-nonsense sound about her. And although Caen is full of good-natured nonsense, he quickly cuts to the point when he wants to. Nathan admitted that he does not read Caen every day now due to eye problems. But Jean reads Caen for him.
And does that other big city on the East Coast have a columnist the likes of Caen?
Not according to Maggie Kennedy, a friendly young woman with freckles and red hair from New York City. Stated Kennedy, who has lived in San Francisco for a year now, "He makes it seem like you know every body; he makes things familiar and makes you feel like you're in on the gossip." Kennedy said there is no columnist in New York City who makes you feel like Caen. "I've never been loyal to a columnist before," she said.
The day brought out many luminaries, some local, some not. Walter Cronkite flew out from New York, as did actor-singer Joel Gray.
Cronkite threatened to recall all of the fifty-three years that he has known Caen--a friendship that began in London during World War II--but instead waxed poetic about Caen and the City: "A celebration for Herb Caen here on the banks of the bay which graces the city that he once called Baghdad seems incredible. San Francisco doesn't need Herb Caen to bring it fame, but he put a frame around its gorgeous, glorious image. Those who came to see the picture stayed to admire the frame that enhanced it."
At one point during the celebrations antique planes flew over the platform in front of the Ferry Building at the end of Market Street; white pigeons were released into the air (Caen has had a dubious relationship with these city birds); fireworks were set off on top of the Ferry Building in an unusual daytime spectacle; hundreds of balloons were released and drifted off towards the bay; and a group of San Francisco bike messengers arrived with a banner declaring their love for Caen.
Caen, who arrived by motorcade from the Chronicle Building, sat on stage with his wife of a month, Ann Moller, and his son Chis from a former marriage. Despite his illness, he was in good form and clearly enjoying the day.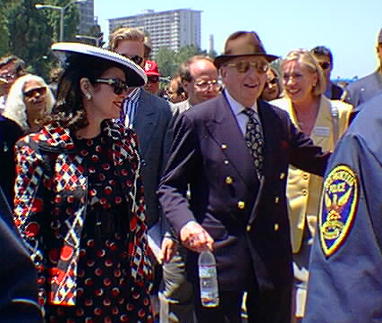 Said Caen at the microphone, "Can you hear me?" The crowd applauded lovingly that it could. Growled Caen, sweet and low, "Too baaad. You're stuck with me."
"Doesn't anybody work in this town" he asked later. Lots of laughs and shouts of "No!"
Later: "Who's running the town? We got five living mayors (sitting) here. Obviously the grand jury hasn't been doing its job."
Still later: "God, I love this town"--one of Caen's trademark expression. "I loved this town before I was born, and I'm going to love it when I'm gone. It's been the greatest eighty years of my life so far." And if he goes to heaven, he said he is going to do what every San Franciscan does: "He looks around and says, 'It ain't bad, but it ain't San Francisco.'"
There were many others there to help celebrate the day--actor Robin Williams, singer Huey Lewis, Giant's owner Eddie DeBartolo, and Caen's ebullient friend, mayor Willie Brown, as the master of ceremonies.
It was a great day of flowing spirits, literally and figuratively. Over a hundred bars and restaurants reduced drink prices to 1938 levels, 1938 being the year that Caen began his column. And the weather cooperated magnificently. It was not the "cool gray city of love" that San Francisco often is, but a bright and sunny day on which vows of love and loyalty were exchanged. Incredible day. Incredible city. Incredible man.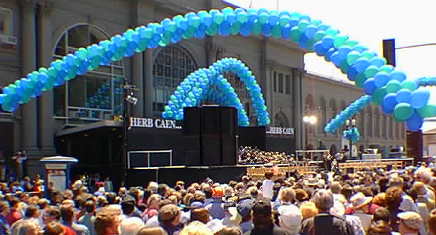 (6/14/96)
---
Comments?
editor@coastnews.com
---